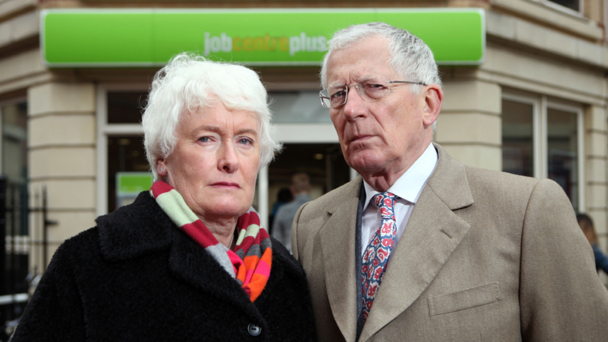 Nick Hewer and Margaret Mountford, most famous for expressing their utter contempt for an Apprentice contestant's business acumen with nothing more than a scratch of the chin or an arch of the eyebrow, are turning their attention to welfare.
If ever an issue warranted such uncompromising prime time scrutiny it's welfare.
The programme, which airs on Thursday at 9pm on BBC1, will see four claimants and four taxpayers come face-to-face to explore each other's lives, examine their values and speak their minds.
I was lucky enough to be asked to help the programme make sense of what welfare means for disabled people.
This is easy. Life costs more if you're disabled. At the same time you're also more likely to earn less or be out of work.
So – especially now with incomes flat-lining, living costs spiralling and even fewer jobs out there – it's tough for many disabled people to pay the bills.
We know many disabled people turn to loans to cover essentials.
Welfare – or more precisely financial support when you're struggling to make ends meet – is the difference between disabled people paying the bills or not.
The programme is timely. Welfare is the subject of an £18bn squeeze by the Government. Last month the Government announced a cap on future welfare spending.  Parliament is for the first time having a debate about the combined impact of all the different changes on disabled people. Liam Byrne, the Shadow Work and Pensions Ministers is taking on the issue.
A lot is said about the need to make sure benefits go to people that really need it (and not hand-gliding benefits-fakers) and to make sure welfare helps people get work rather than put people off finding a job. 
But a couple of points tend to get lost. 
Firstly some people need benefits. It doesn't make them a scrounger. It doesn't make them a lay-about. It just means they need support to do things everyone else takes for granted. And it should not be conditional on finding work or the state of the economy . 
Secondly fraud on welfare, particularly disability benefits is tiny. 
The Government is planning to take disability living allowance away from 600,000 people. This financial support is a lifeline that helps disabled people cover the costs of doing things yourself at home and also getting out and about. The Minister argues that too many people claim it, the implication being that some must be fiddling the system. But fraud rates are actually less than 1%. 
I spent an afternoon with Nick and Margaret as they filmed in the main lobby of the London School of Economics at lunchtime. It wasn't the best place in London to get people to be quiet while you film a documentary. 
But one thing came across clearly, they knew their stuff. 
They were interested in the issues and were asking the questions that the public would want to know. In fact they paid short shrift to the producer's less well-informed suggestions and did things the way they wanted to.
The trick with any complex issue is attracting attention to it and explaining it in a simple way.  
People are more likely to watch a programme with Nick and Margaret in it than they would be to watch a documentary on welfare. The title might be provocative, but it gets people into the issue. Then it's about seeking explain it in a simple way without dumbing down.
Nick and Margaret were great. I hope the programme gets the right messages across and more people get to understand what is really going on.
Watch Nick and Margaret: We All Pay Your Benefits tonight at 9pm on BBC1.